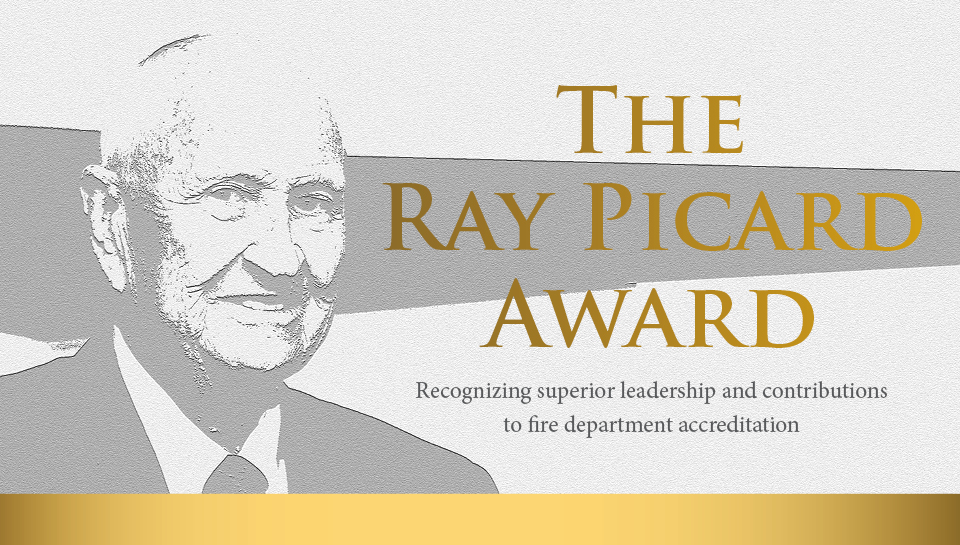 Nominations open on October 15, 2019 and close on December 16, 2019
Nominations are now open!
In 2000, the Commission on Fire Accreditation International (CFAI) established the Ray Picard Award. We designed this annual award to recognize Chief Ray Picard's vision in pioneering quality improvement for the fire and emergency service. Chief Picard was one of the earliest champions of the self-assessment and accreditation process that has led to a culture and paradigm shift within the fire service.
This annual award will be presented to an individual who exemplifies the ability, character, dedication, leadership, and visionary attributes Chief Picard exhibited. The individual should personify Chief Picard's contributions and exceptional leadership to the CFAI and the accreditation of fire service organizations.
Previous Recipients
| | |
| --- | --- |
| 2019 – Mike Hall, FO | 2009 – Mark Puknaitis, CFO |
| 2018 – Brad Brown, FO | 2008 – No Award |
| 2017 – Rob Ugaste, CFO | 2007 – Gary Tokle |
| 2016 – No Award | 2006 – Gary Curmode, CFO |
| 2015 – Brian Dean, CFO | 2005 – Dennis Gage |
| 2014 – Ernst Piercy, CFO | 2004 – Ronny Coleman, CFO |
| 2013 – Cliff Jones, CFO | 2003 – Ray Flowers |
| 2012 – Barry McKinnon | 2002 – Martel Thompson |
| 2011 – Mike Brown | 2001 – Bill Killen, CFO and Randy Bruegman, CFO |
| 2010 – Ken Helgerson |   |